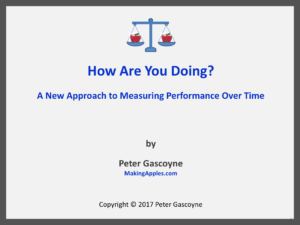 A New Approach to Measuring Performance Over Time
How Are You Doing?  is a "book" that describes in detail why and how seasonally adjusting your data will lead to a much better understanding of performance over time, for almost any given metric.  I describe it as a "book" — in quotes — as it comes in the form of a PowerPoint presentation.
59 pages
42-minute audio
For managers and executives, this overview describes the hazards of typical reporting that relies on comparison with Plan or year-over-year to inform you how you're doing.  It also quickly describes how seasonally-adjusting your data works, and how it can give you much greater understanding about how you've done in the past, where you're at today, and where you're heading in future.
Detailed How-To Guide  
500+ pages
Introduction How to use the book
Chapter 1 Equated Day Factors — relative level of activity of each day of the week
Chapter 2 Holiday Factors — relative activity of holidays and surrounding days
Chapter 3 Normalization Factors — summing up relative length of each month of year
Chapter 4 Initial Seasonal Factors — first cut at estimating monthly seasonal factors
Chapter 5 Final Seasonal Factors — final set of factors, after adjusting for growth and events
Chapter 6 Estimating Trend — determining how monthly data has grown and shifted over time
Chapter 7 Day of Month Factors — for those with daily data, relative activity across month
Chapter 8 Estimating Daily Trend — determining how daily data has grown and shifted over time
Chapter 9 Reporting — using trend models to provide more informative info in each report
Chapter 10 Price Elasticity — using trended history to determine how price changes affect sales
Chapter 11 Monthly Retention — using model to better understand this key variable's performance
Chapter 12 Forecasting — using model to project future with clarity, understanding, and ease
Includes all book text without the imagery.
Excel Files
This book refers to the following Excel files that you can download.